Asymmetrical in design, the Nhino stool seems almost to dance, to move, inviting users to socialise and share. Nhino is available in three different heights - 82, 72 and 53 cm - and is perfect for breakfast in the kitchen, for dinner in the dining room, or for afternoon tea and coffee in the living room. This versatile seat is also suitable for public areas, especially in casual venues such as lounge bars or fast food joints. The highest version is idea for an aperitif at the bar counter.The frame, with rounded edges, is in beech, while the seat is in beech plywood. Nhino comes in various finishes: bleached, stained in natural tones such as cocoa or tin grey, or lacquered in bright colours such as red, yellow, orange, and many more besides.
Article Code:
0010-H47 / 0011-H67 / 0012-H77
Description:
Product dimensions:
Technical Sheet: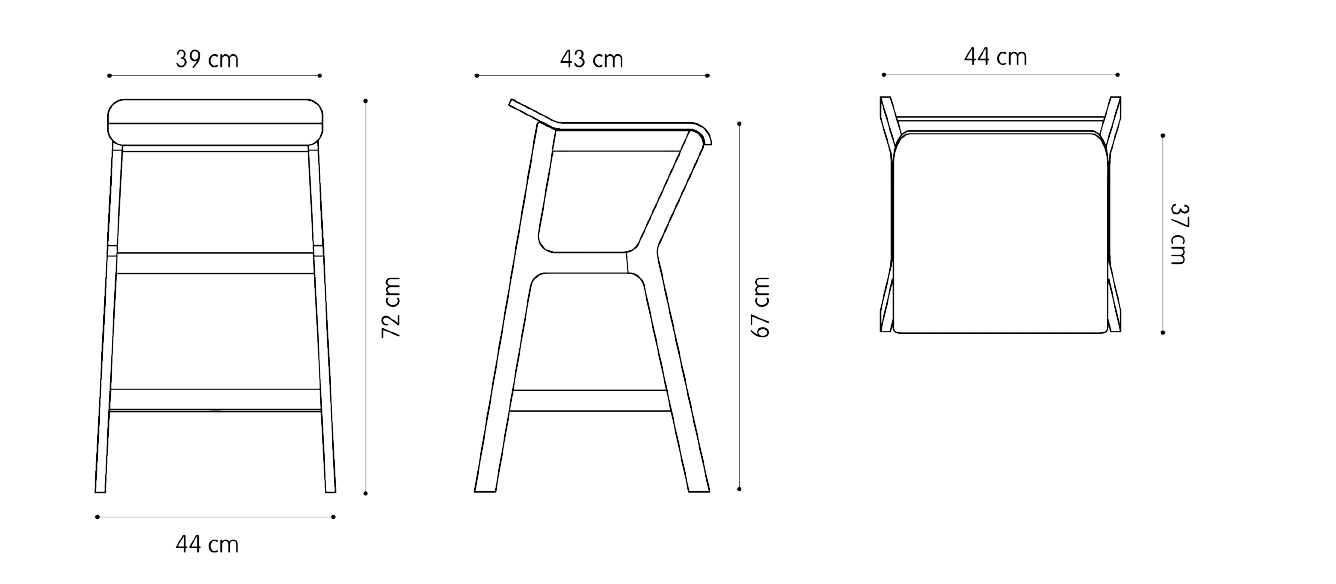 Graduated in Architecture in Florence. He has taught, held conferences and workshops in various Faculties of Architecture and Design.
He founded the Emilio Nanni | ENa + d | arch + design studio, dealing with architecture, urban redevelopment, design, interior design and art direction.
As an architect he has carried out numerous interventions on various scales of residential architecture in various Italian cities. As a designer he has collaborated with many Italian companies including: Billiani, Bross, Vittorio Bonacina, Cabas, Calligaris, Da a, DeCastelli, Laboratorio Pesaro, Lamm, Mdf Italia, Guzzini, Roche Bobois, Saba, Pampaloni, Tonelli, Tonon, Valadier Jewels, Zanotta, Zeritalia. The TRABA collaboration began in 2015.
Painter, experimenter, he has always exhibited in numerous solo exhibitions in galleries and museums in Italy and abroad and his works are present in various international public and private collections.